Randy Rhoads is Really Cool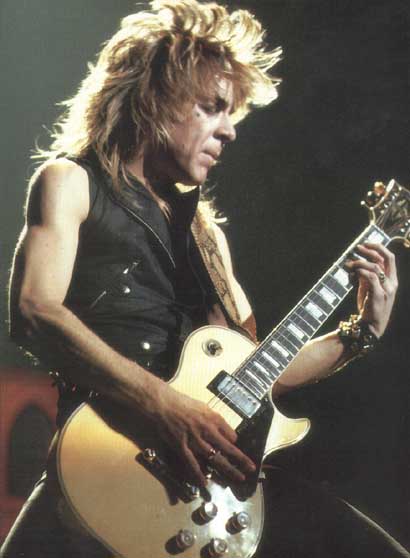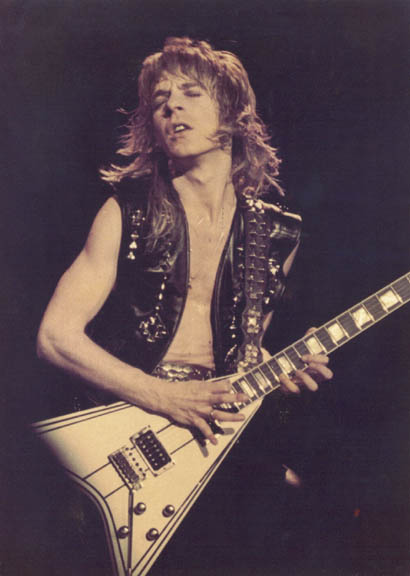 Randy's Biography

On December 6th, 1956, Randall William Rhoads was brought into the world at St. John's hospital in the heart of Santa Monica, California. When he attended school, he was a bit of an outcast because of his eccentric appearance. Randy had long blond hair and was of small size. It is rumored that he had a 22 inch waist. But what really matters was his explosive talent. When Randy was 6 he picked up his grandfather's old Gibson acoustic and thus started his guitar playing. later on he formed "Quiet Riot" when he was around 16 and graduated high school early (he was a good student) in order to pursue making music for Quiet Riot. Aside from performing on various night club circuits, Randy supported himself by teaching guitar at his mother's (Delores Rhoads) music school in Los Angeles. Soon enough Quiet Riot his the big time in Japan and were "the next big thing." Sadly, the two popular albums were never released in the US. When Quiet Riot came back to the US, they tried to get a record deal. They had a strong feeling about it seeing that their rivals Van Halen were signed. As fate would have it, no record label was interested in Quiet Riot enough to sign them. Quiet Riot, along with Randy, would perfrom on the club scene.

As Randy realized his band wasn't going as far as he had hoped, he began to look at other oppurtunities to play in bands. One such was the new band that Ex Black Sabbath vocalist Ozzy Osbourne was trying to conjure up. Friend/bassist Dana Strum from Slaughter told Randy that he should go and audition for Ozzy's band. Randy showed up in late 1979 at the recording studio to play for Ozzy. "What would you like me to play for you?" Randy asked a drunk Ozzy. "Any fucking thing," Ozzy answered. Randy shrugged and started to warm up. Within seconds, Ozzy sat up straight and said "You've got the gig!" Ozzy, like everyone before him, was blown away by Randy's playing.

After Randy got the role of lead guitarist in Ozzy's "Blizzard of Ozz," he flew to England to record with Ozzy. Over the next few years, he and Ozzy wrote and recording the hit albums "Blizzard of Ozz" and "Diary of a Madman." Before the albums were hits, there were the long months on the road touring and promoting. It was there that Ozzy and Randy became business partners as well as good friends. The most well documented live picture of Ozzy and Randy is the one where Ozzy is holding up his friend and axe man high in the air, as if to show him off to the world. Their live shows together were becoming legendary and fans in Europe and America were snapping up concert tickets. Randy even recieved the "Best New Talen Award" in 1981 from Guitar Player magazine. Says Ozzy: "Some nights Randy would give me a spine chill. His playing was so unpredictable live. He wouldn't think about it, he would just go for it. He wouldn't wonder if it would fit the song structure, he would just play his ideas as if they were there anyway."

Ozzy and Randy were blazing through the second leg of the Diary of a Madman tour in the US when tragedy struck. Randy Rhoads, along with Rachel Youngblood (seamstress), was convinced to take a plane ride with pilot Andrew Aycock. (No one knew that Aycock's pilot liscence had been taken away after he was involved in a helicopter crash which killed a young boy) On the bus, Ozzy Osbourne and girlfriend/manager were jerked from their sleep by a loud crashing sound and the voices of their tour manager Jake Duncan and keyboard player Don Airey. The plane that had been carrying Randy had clipped a wing on a nearby tree while dive bombing the bus. It flew into a house and burst into flames. Randy Rhoads was killed on impact. He was only 25 years old. "The saddest moment, among many, for me was doing Madison Square Garden," said bass player Rudy Sarzo. "Randy was really looking forward to that show. By the time we got there, it was like a wake. Everybody in the audience had banners. Having to finish the tour was really tough...It got tougher and tougher to get on that stage." The even sadder part was for Ozzy, Rudy, Don and Tommy Aldridge (drums) was to hear Randy's riffs and solos and turn around and not see him there, bouncing around with his polka dot flying v.

Randy Rhoads has been gone for over 20 years and his influence is heard everywhere. Several albums including "Quiet Riot: The Randy Rhoads' Years" and "Ozzy Osbourne: Tribute to Randy Rhoads" which show the bright flame Randy carried for the short time that he was here. Above his grave it says "An Inspiration to all young people" which is true now and will be in years to come.




Randy's Biography
Randy's Tabs
Randy's Guitars
Randy Pics




Yeah, none of this pictures of Randy belong to me. If they are yours and you don't want me using them, just email me at sixstringbabe@hotmail.com.